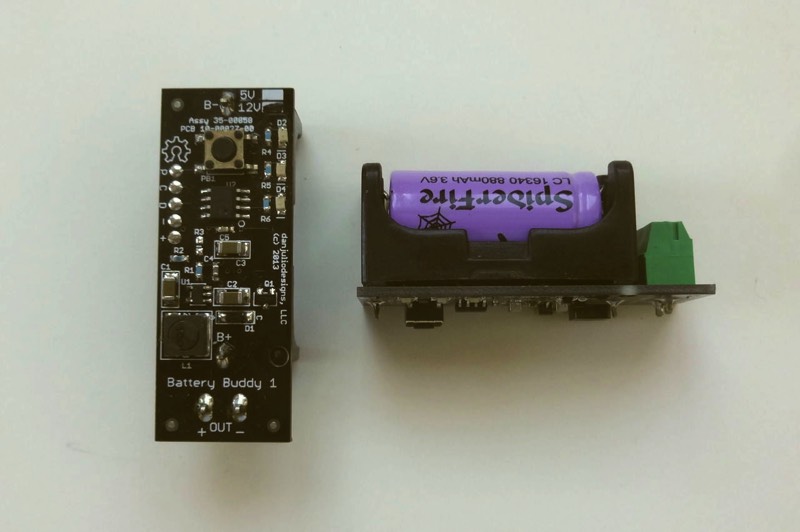 Battery Buddy 1 is an attempt to productize
this hack
as an
Open Source Hardware
design. It has two configurations providing either 5VDC or 12VDC outputs. I built a set of prototypes and found lackluster interest with the group of people I showed them too so I decided to move on to other projects and just post the design files here for anyone who might want a small power supply that has an easily replaceable battery.
I have found these devices useful to power devices I am debugging, for costumes and for powering things in the field.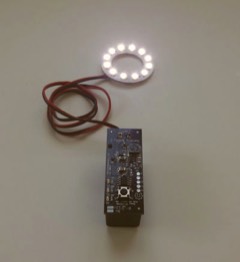 Features
Power on/off Control
5-level Battery Voltage Display on Red/Yellow/Green LEDs
Low-battery indication
Low-battery shut-down
Uses replaceable, rechargeable Li-ion batteries
Specifications
Auto-shutoff Battery Voltage: ~3V
Low Battery Indication: ~3.2V
5VDC Version Max Current: ~1 A
12VDC Version Max Current: ~500 mA
Quiescent Current (sleeping): ~30 uA
No-load Current (on): ~10 mA
Downloads
bb1_design_files.zip
The download file includes
Gerbers for the PCB
Eagle CAD (5.X) source files
Schematic PDF
BOM for both 5V and 12V versions
PIC source code and HEX file (for MPIDE)
IC Specifications
Operation
Press and hold the button for 3 seconds to turn on or off. The LEDs sequence Red->Yellow->Green when turning on and Green->Yellow->Red when turning off.
Press and release the button quickly to display the battery level. Five battery levels are displayed on the LEDs for 500 mSec : Green; Green-Yellow; Yellow; Yellow-Red; Red
The Red LED blinks slowly when low-battery condition is detected (below 3.2V)
Power is turned off and the device sleeps when the battery voltage reaches about 3V
Notes
The firmware supports fault detection (pin 7) and will shut down the power supply when pin 7 goes low. Unfortunately the circuit (resistor R3) didn't work correctly and this feature is disabled. Do not load resistor R3 on the PCB. A future version might have a current sense resistor and comparator (ideally, in the micro).
There is no reverse-battery protection. I would add a MOSFET reverse battery protection circuit if I spun the board but for not make sure now to reverse the battery. Things might get very hot!
The code is written for Microchip's MPASM assembler. ICSP signals are brought to the side of the PCB for use with a programmer such as the PicKit 3 or ICD 2/3.
The board will work with either Texas Instrument's LMR62421 or Linear Technologies LT1935 IC. Part and voltage specific components are listed on the schematic.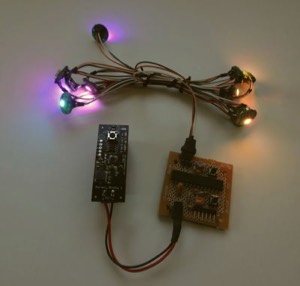 Powering a 5VDC LED display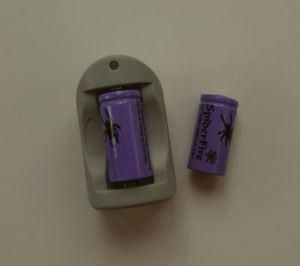 Batteries and Charger


Look for 3.6V 16340-style rechargeable Li-Ion batteries. I bought mine from DealExtreme. Make sure that they are 3.6V (not 3V).